Regional Profile
Target Industries
Target markets have been determined from regular analysis of the labor shed, training programs, wages, growth, and the facility needs of Industry. Data specialists from Younger and Associates, TVA, Tennessee's Center for Economic Research, Middle TN Industrial Development Aassociation (MTIDA), Upper Cumberland Development District, and Greater Nashville Regional Council have provided considerable content for analysis. The opinions of TVA Executives, TN ECD Business Developers, site selectors, and the local utilities during annual familiarization tours also contribute in determining targets. Additionally, the relationships with the companies in the park and community help determine target markets with their input.
ADVANCED MANUFACTURING: Automotive
The automotive industry is a prevalent advanced manufacturing cluster in the TCEA region; over 200 suppliers within a 100 mile radius. There is an automotive supplier that manufacturers airbag inflator technology in the PowerCom Industrial Center. In bordering counties there are multi-tiered suppliers manufacturing just about every component of automobiles such as fuel systems, brake lines, drive trains, door regulators, chasis, and engine gaskets. GM, Nissan, and Mitsubishi(HQ) are here in Middle Tennessee and the PowerCom Industrial Center in Hartsville is right between two major facilities.
The TCEA region features:
31% of production employees in the five county region are in the Motor Vehicle Parts manufacturing industry including team assemblers, electricians, industrial engineers and production workers.
150+ annual graduates from Tennessee College of Technology Hartsville. TCAT also offers specialized training programs to customize around your company's specific needs.
7.05% population growth projected for the TCEA region, 2022-2077
The cost of living in the region is lower than the national average and can quickly be calculated with the cost of living calculator
Cross national Interstate 40 is 20 miles South from PowerCom Industrial Center, and I-65 is 35 miles northwest of Hartsville. A new TDOT road project will reduce the milage from PowerCom Industrial Park to cross national interstate 40 by a 3rd.
Nashville International Airport is 45 miles from PowerCom Industrial Center and four municipal airports are within 30 miles.
3 assembly plants (Nissan – Smyrna, GM/Corvette - Bowling Green, GM – Spring Hill), are located within 90 miles, as well as EV battery facilities such as CATL, Ultium, Microvose, and Envision. ARC Automotive, developer of air-bag inflation technology, Dana (driveshafts), Shiroki (door regulators), Taiho (engine gaskets) and a host of Tier 3 suppliers who craft everything from EV parts for commercial vehicles, to gas and brake lines, to brackets that help hold evrything together in braking systems.
---
AUTOMOTIVE SUPPLIERS IN A 100 MILE RADIUS FROM POWERCOM INDUSTRIAL CENTER (& MACON LAFAYETTE INDUSTRIAL PARK):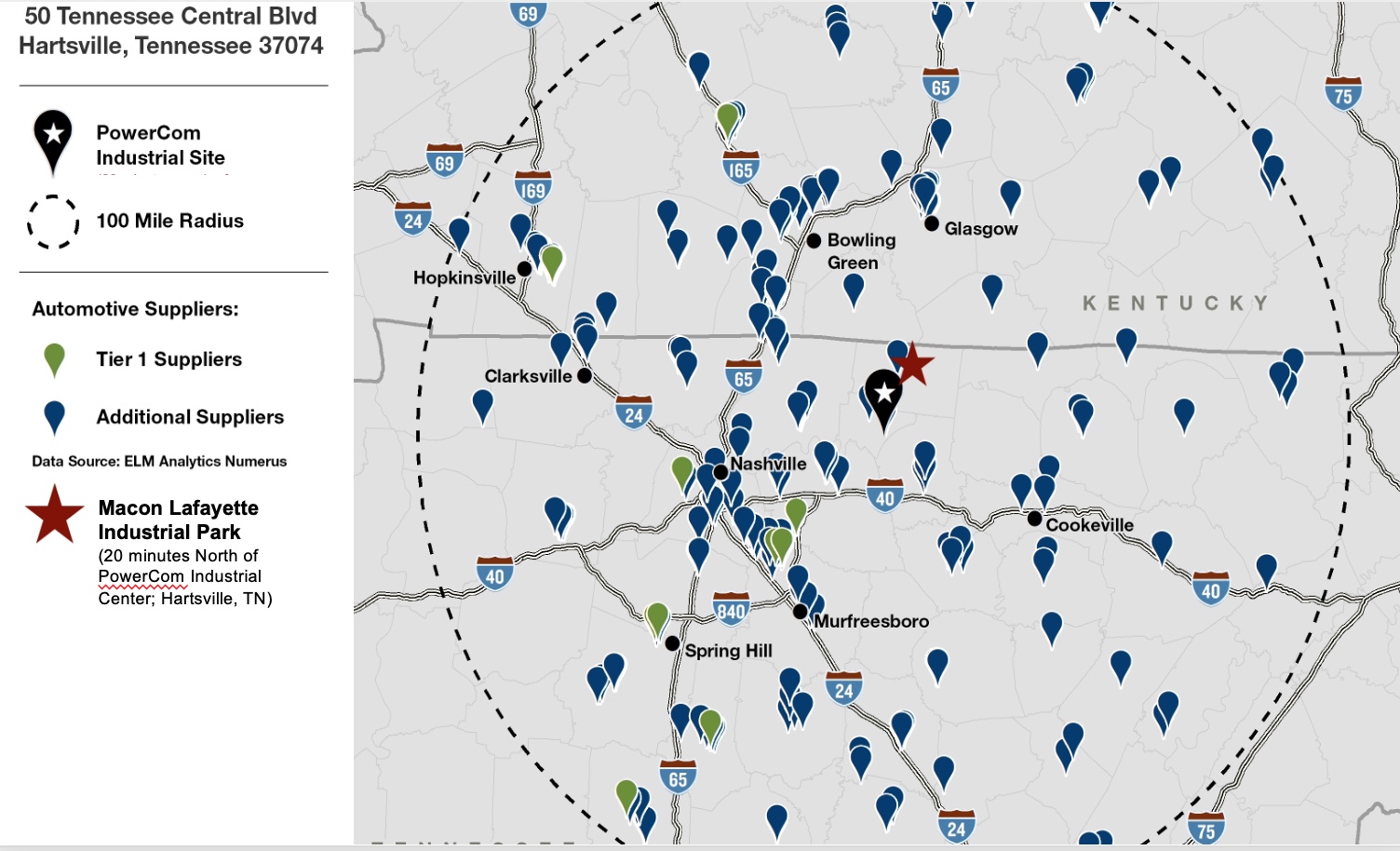 AUTOMOTIVE: TENNESSEE ECONOMIC & COMMUNITY DEVELOPMENT
"With more than 920 auto suppliers and the second lowest tax burden in the nation, Tennessee is the beating heart of the southern automotive corridor.
Tennessee has been Business Facilities magazine's top state in automotive manufacturing strength five years over the last decade, thanks in large part to our highly trained workforce and their unwavering commitment to excellence.
Tennessee's automotive manufacturing cluster includes three major assembly plants and automotive operations in 88 of 95 counties. Nissan's North American headquarters is in Franklin, and its plant in Smyrna is regularly the most productive in North America. With General Motors in Spring Hill, Volkswagen in Chattanooga and Ford Motor Company's future location Haywood County, Tennessee continues to invest in training for the state's high concentration of automotive employment, a number that's 3.17 times the national average.
Transportation equipment is Tennessee's top export – accounting for 12% of Tennessee's total exports. In 2020, 4 percent of all U.S.-made cars, light trucks and SUVs were produced in Tennessee.
Automotive-related manufacturers in Tennessee include Hankook Tire, Bridgestone Americas, Calsonic Kansei, Magnetti Marelli, SL Tennessee, Denso Manufacturing, Yorozu Automotive, JTEKT, Mahle, and M-Tek." - https://tnecd.com/industries/automotive/
---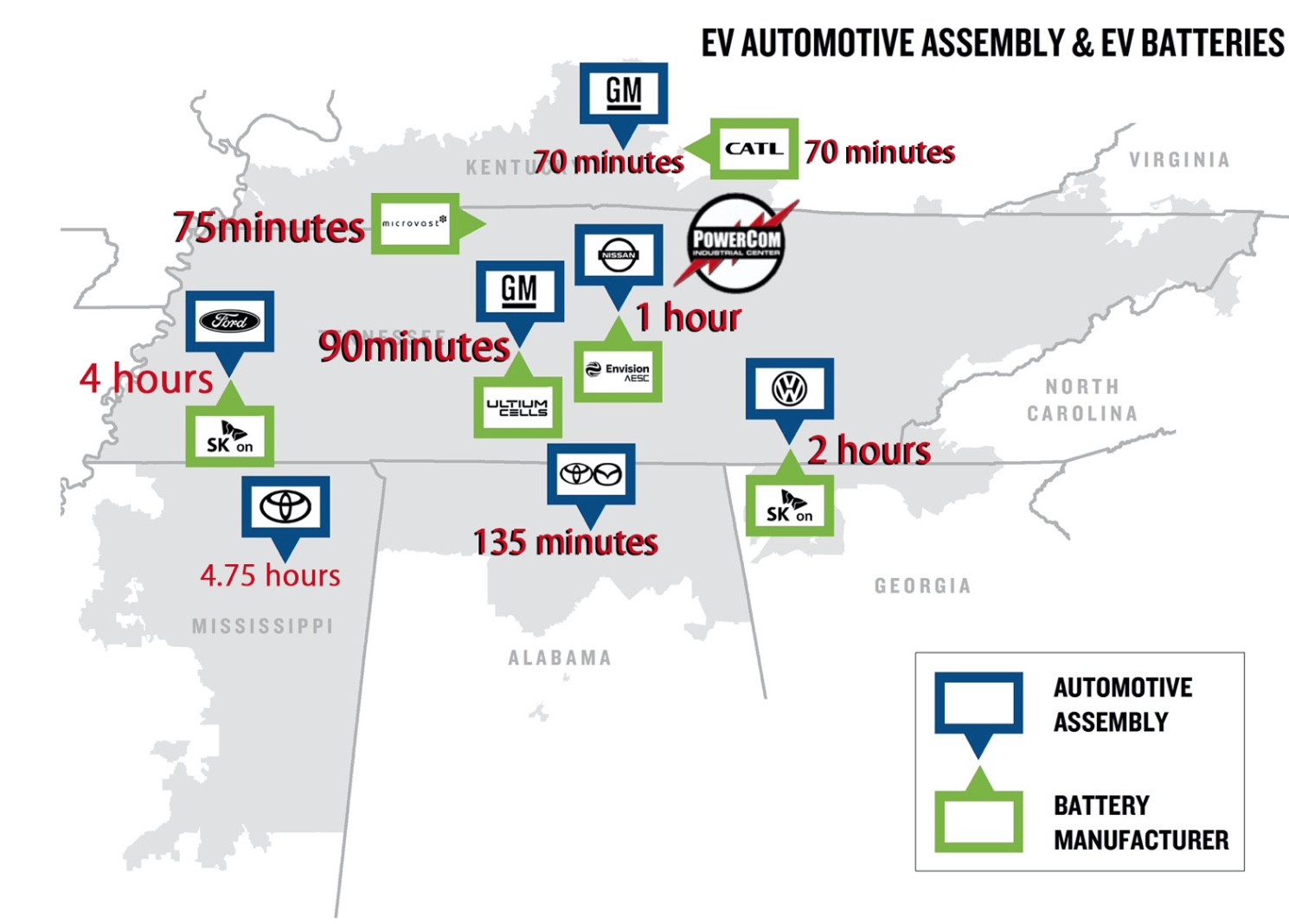 ---
Advanced Manufacturing: METALS INDUSTRY
The TCEA region has a wide base of sophisticated manufacturers, including chemicals (Weldon/Christy's), plastics (Tennplasco, Iris Tech, Yapp), and TCEA has been successful recruiting companies in the metals industry which serves as an additional target market.
PowerCom Industrial Center alone contains three fabricators, a wire spring manufacturer, as well as, a metal forming company, and 60 miles to the North of PowerCom, is a major radial tire steel cord-manufacturing affiliate of Bridgestone.
The metals industry employs over 1500 workers within the five county TCEA region, and is growing.
150+ annual graduates from Tennessee College of Technology Hartsville. TCAT also offers Machine Tool Technology, Welding Technology, Advanced Manufacturing, and Siemens Level 1 Mechatronics, as well as specialized training programs to customize around your company's specific needs.
7.05% population growth projected for the TCEA region, 2022-2077.
PowerCom industrial Center's "Shovel Ready" sites save new businesses time and money on industrial properties with completed infrastructure.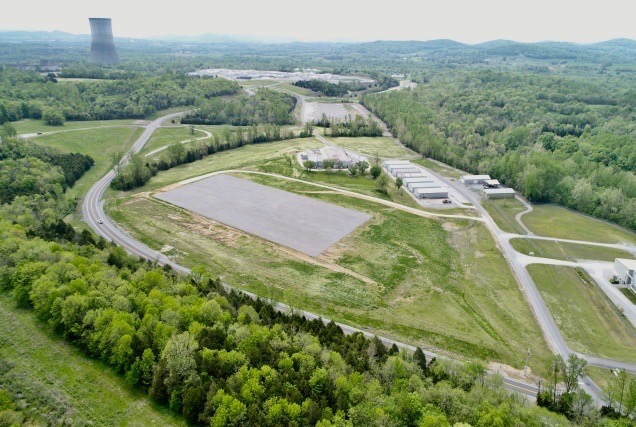 ---
CERAMICS INDUSTRY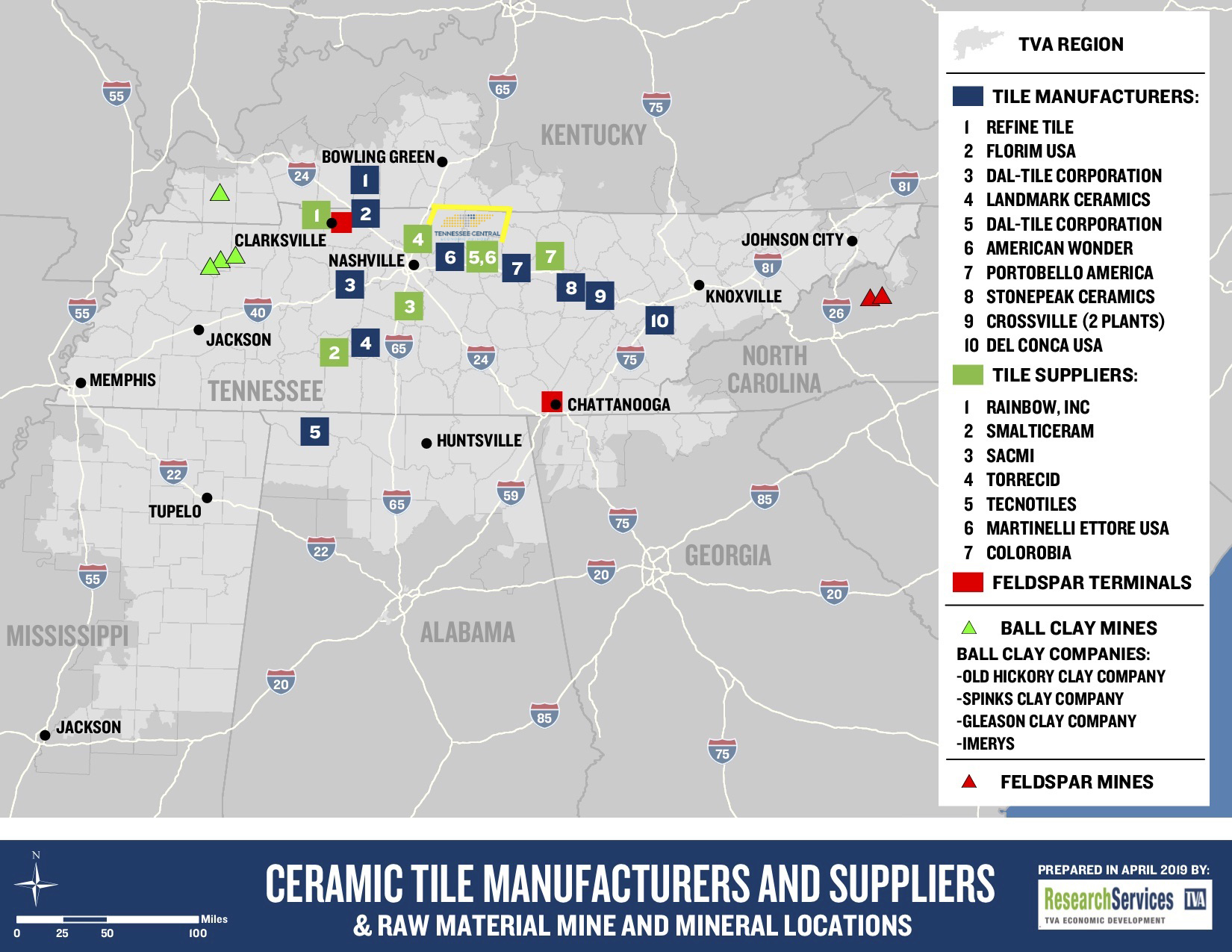 ---
LOIS Demographic Data
Member Counties
Tennessee Central Economic Authority facilitates and networks projects for industrial business relocations, expansions, site selection or entrepreneurial startups. A company searching our five county region (Macon, Smith, Sumner, Trousdale & Wilson County) can have a unique and significant partnership to understand and acquire resources available for your company.
Interactive Maps
Transportation
Leveraging logistical assets for supply chain superiority.
Power to go? You've got it here, with a full range of multimodal options promising strategic flexibility and speed. Location advantages of our region are significant, with roughly 50% of the nation's population and 75% of its major markets with 650 miles. From consumer goods to telecommunications equipment, from pharmaceuticals to automotive and aircraft parts, our powerful logistical network delivers.
Highways
Coast to coast, with interior penetration.
Move goods with 360° ease and maneuverability with access to two state highways (31 and 41) and three interstate highways:
I-40: The nation's third longest interstate highway, offering a direct route from North Carolina to California.

I-65: A critical north-south corridor stretching from Mobile to northern Indiana, where it intersects with two major state highways and I-90's direct route from Seattle to Boston.

I-24: A major Midwest connector stretching from Marion, IL to Atlanta, GA.

TN 840: A major State bypass around Nashville located on I-40.
Rail
Intermodal ease with the best of the east.
Nashville and Eastern Rail: Shortline convenience operated by R.J. Corman. Based in Lebanon, this short-line rail extends from Nashville through Lebanon to Monterey, Tennessee, serving the shipping needs of more than 30 companies, and providing a home for the Music City Star commuter rail service.

CSX: Class I quality. The premier carrier for the eastern half of the U.S., CSX Transportation Railroad maintains a division headquarters, major rail yards, intermodal and Transflow terminals and an automotive distribution center in Nashville. CSX connects our region to major markets in the Northeast (New York and Philadelphia), the Midwest (Detroit, Chicago, Cincinnati, Louisville and St. Louis) and the South (Memphis, Birmingham, Atlanta and New Orleans).
Port
COMING SOON - Port of Middle Tennessee, Ashland City, TN ; Contact: Port Authority of Middle TN c/o Cheatham County Joint Economic & Community Development Board: 615.792.2379; jerometerrell@cheathamconnect.com
PowerCom Industrial Center: The southern-most portion of our industrial park is bordered by the Cumberland River, and while barge access is not currently available at PowerCom, it is feasible. For developers, operators, and interested tenets, a detailed feasibility study is available available upon request. The slides below provide a general overview of location and concepts: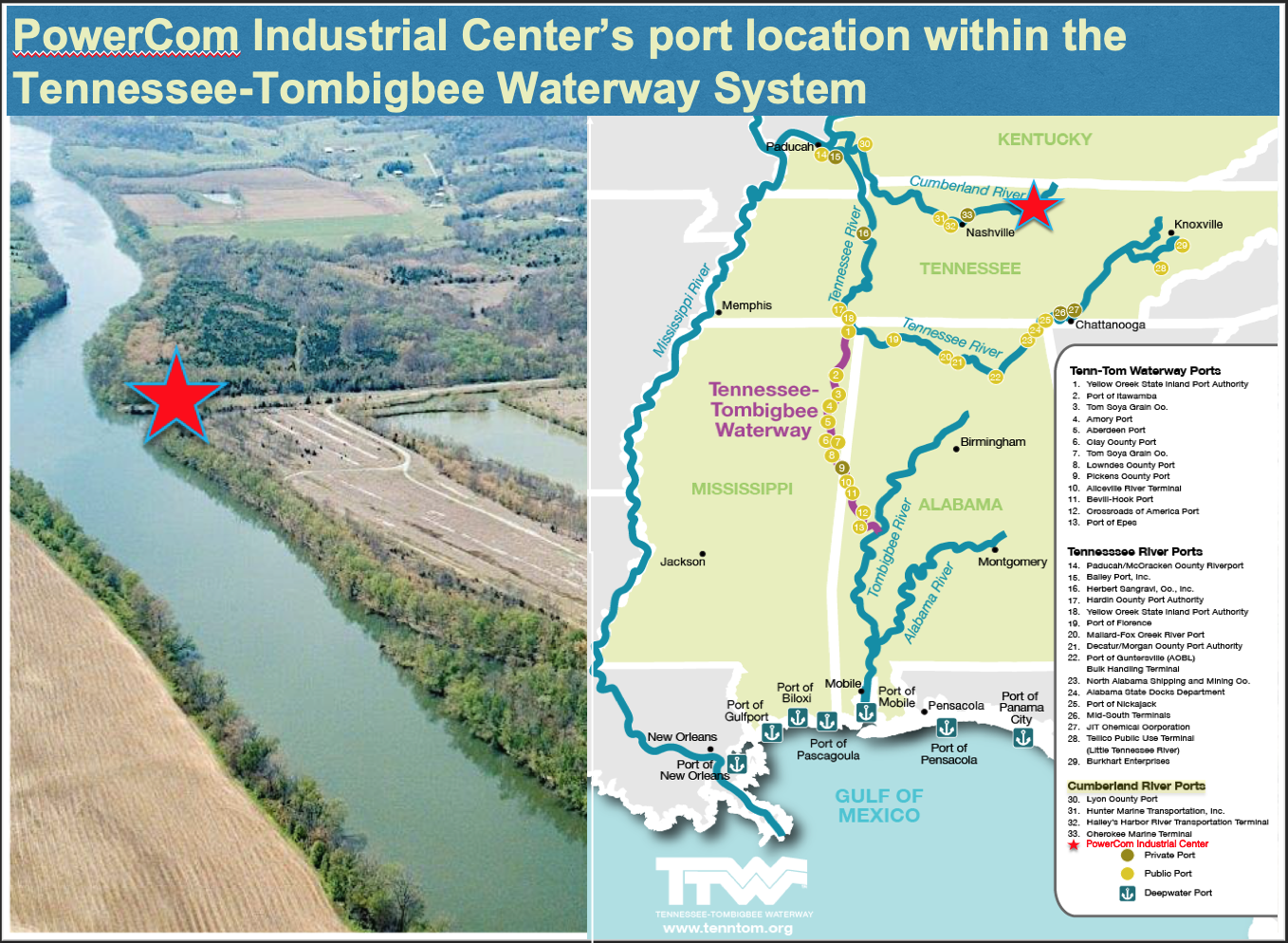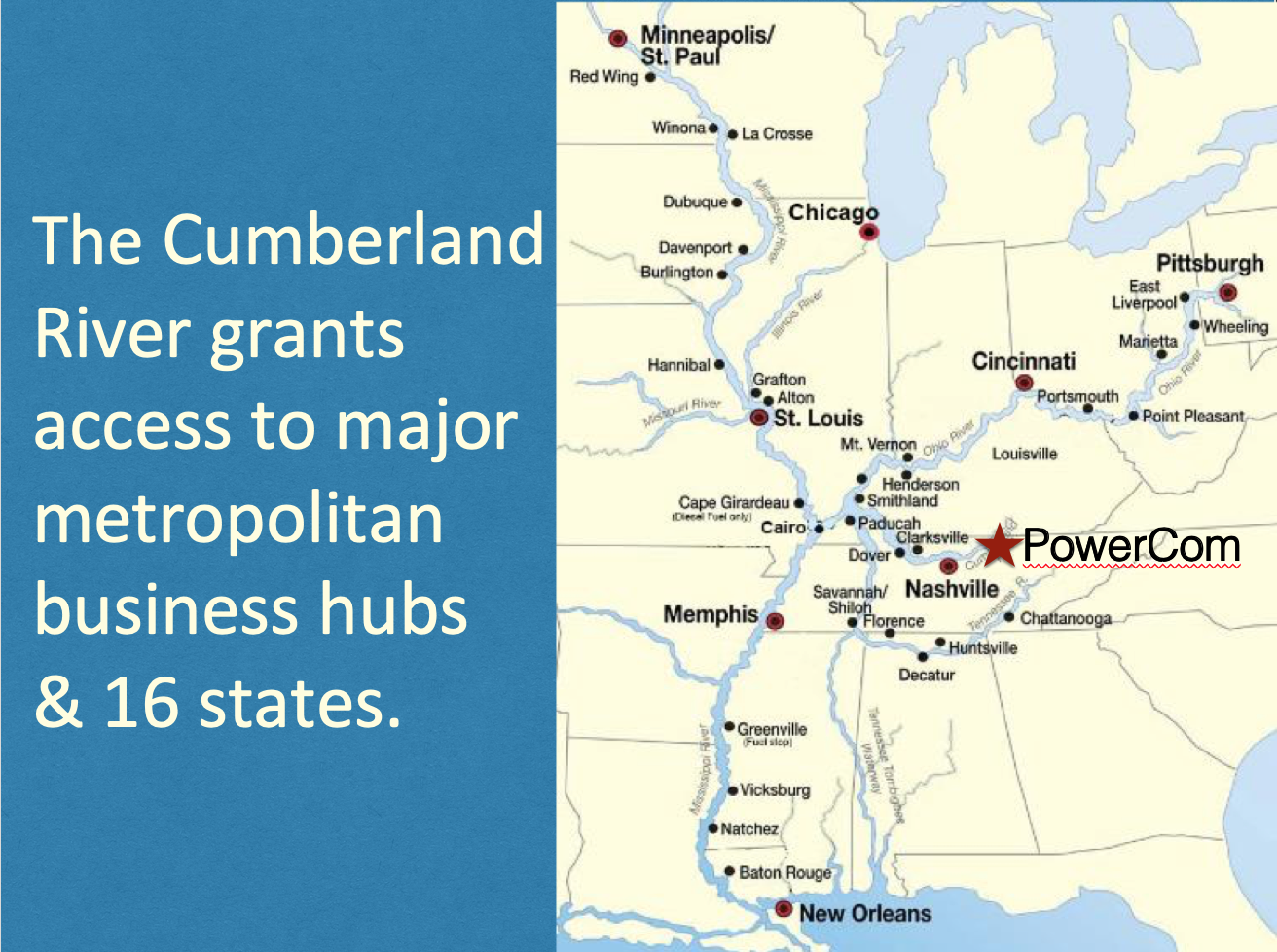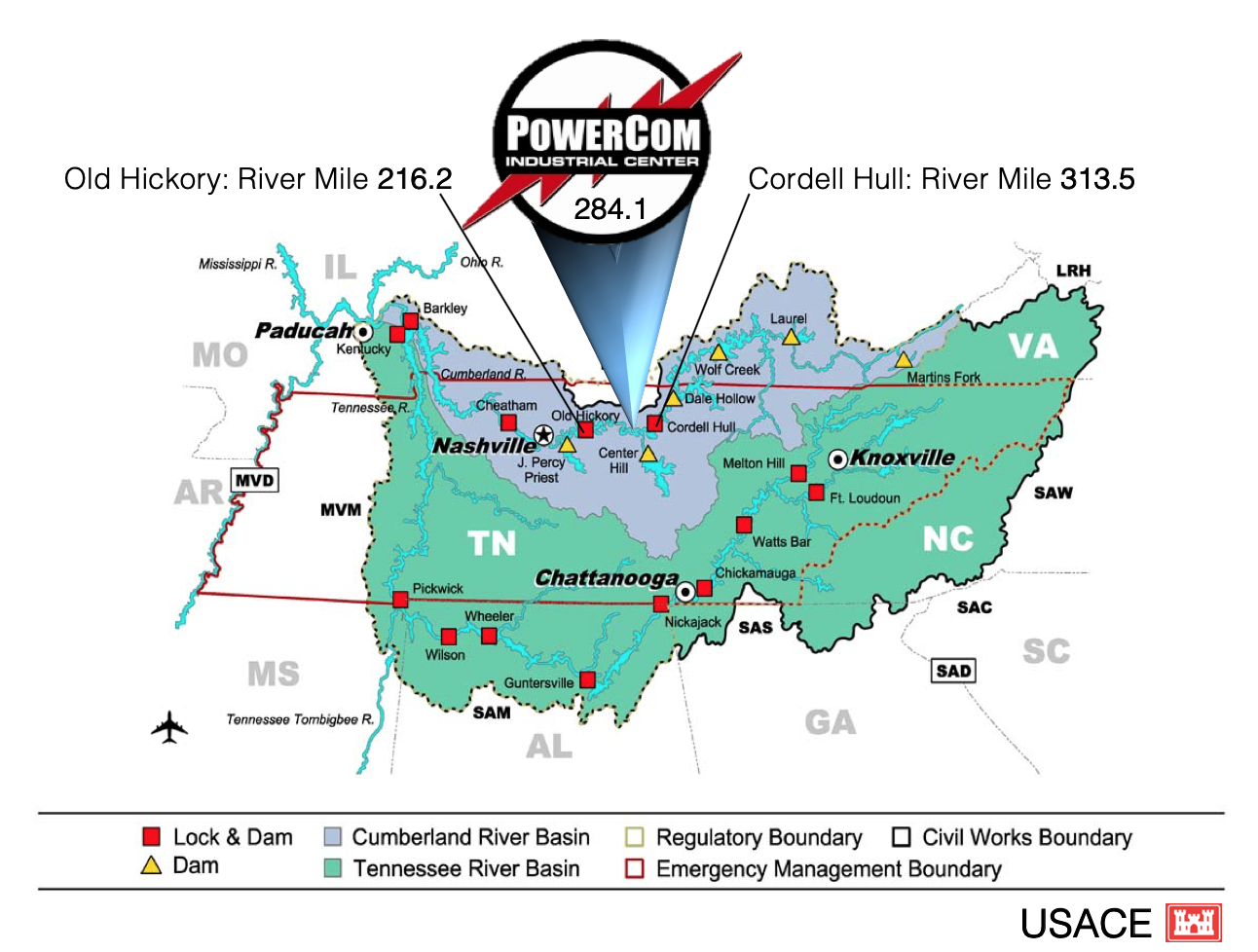 AERIAL (drone footage streamable from HERE)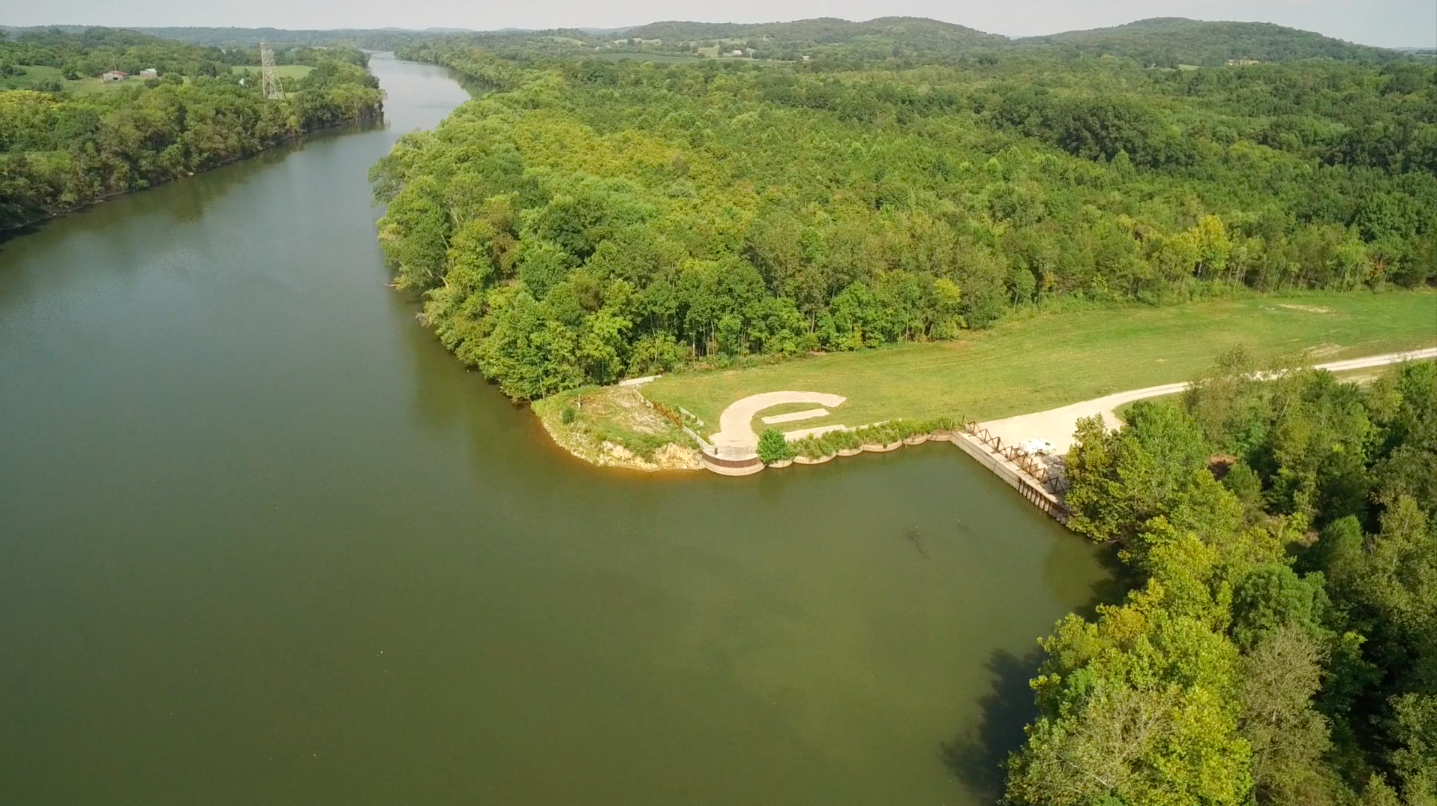 CONCEPTS: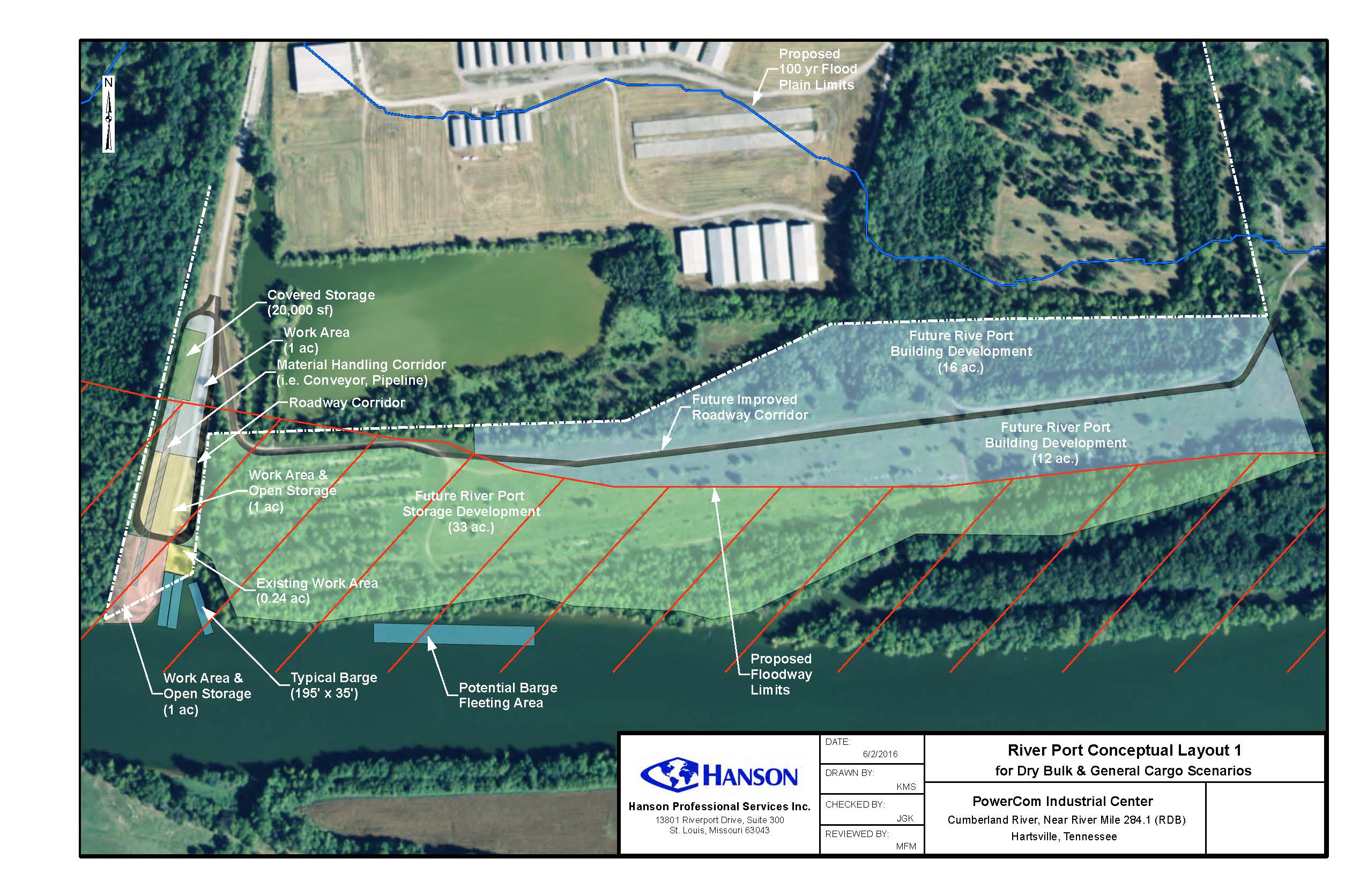 Concept #2: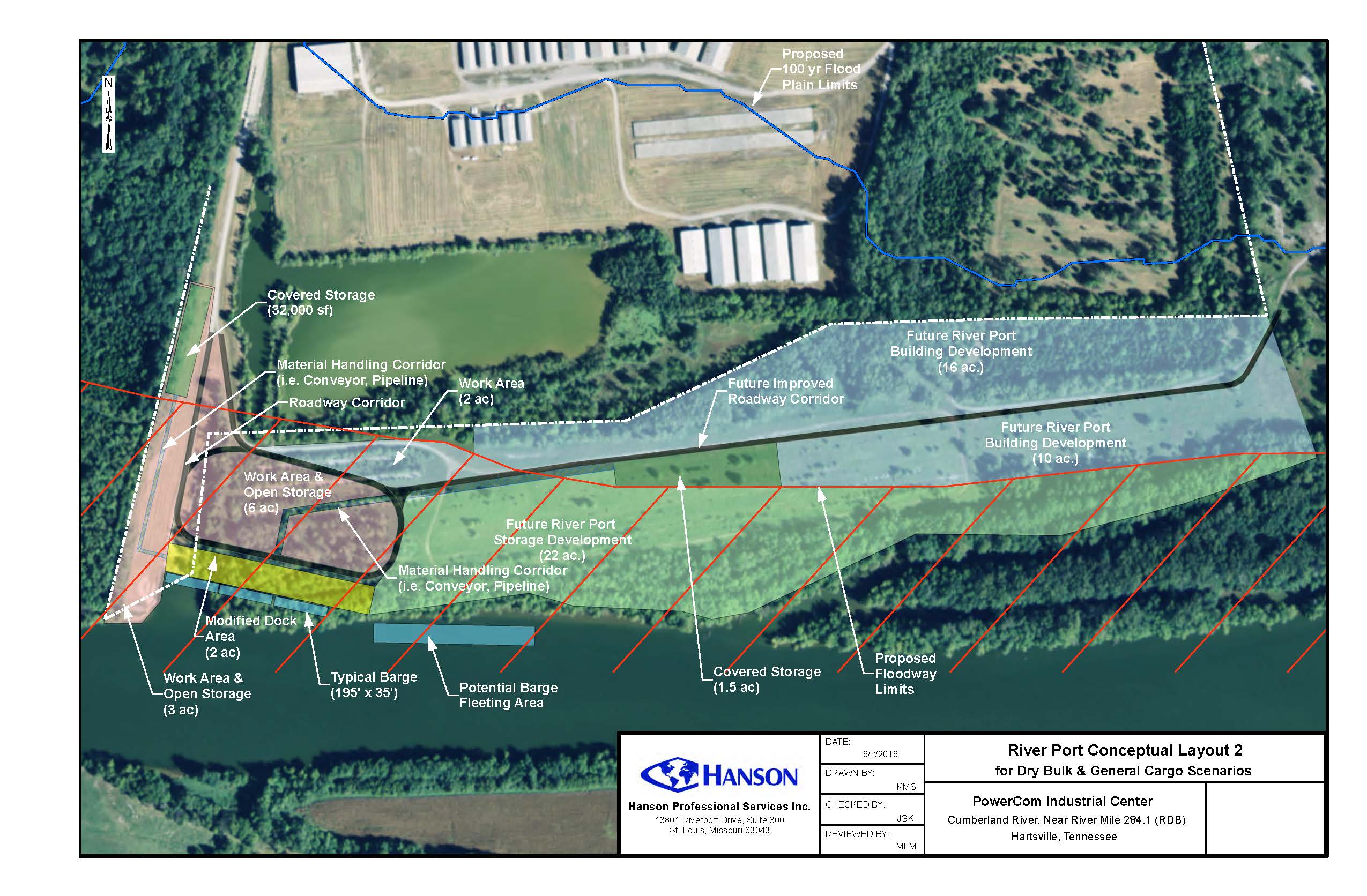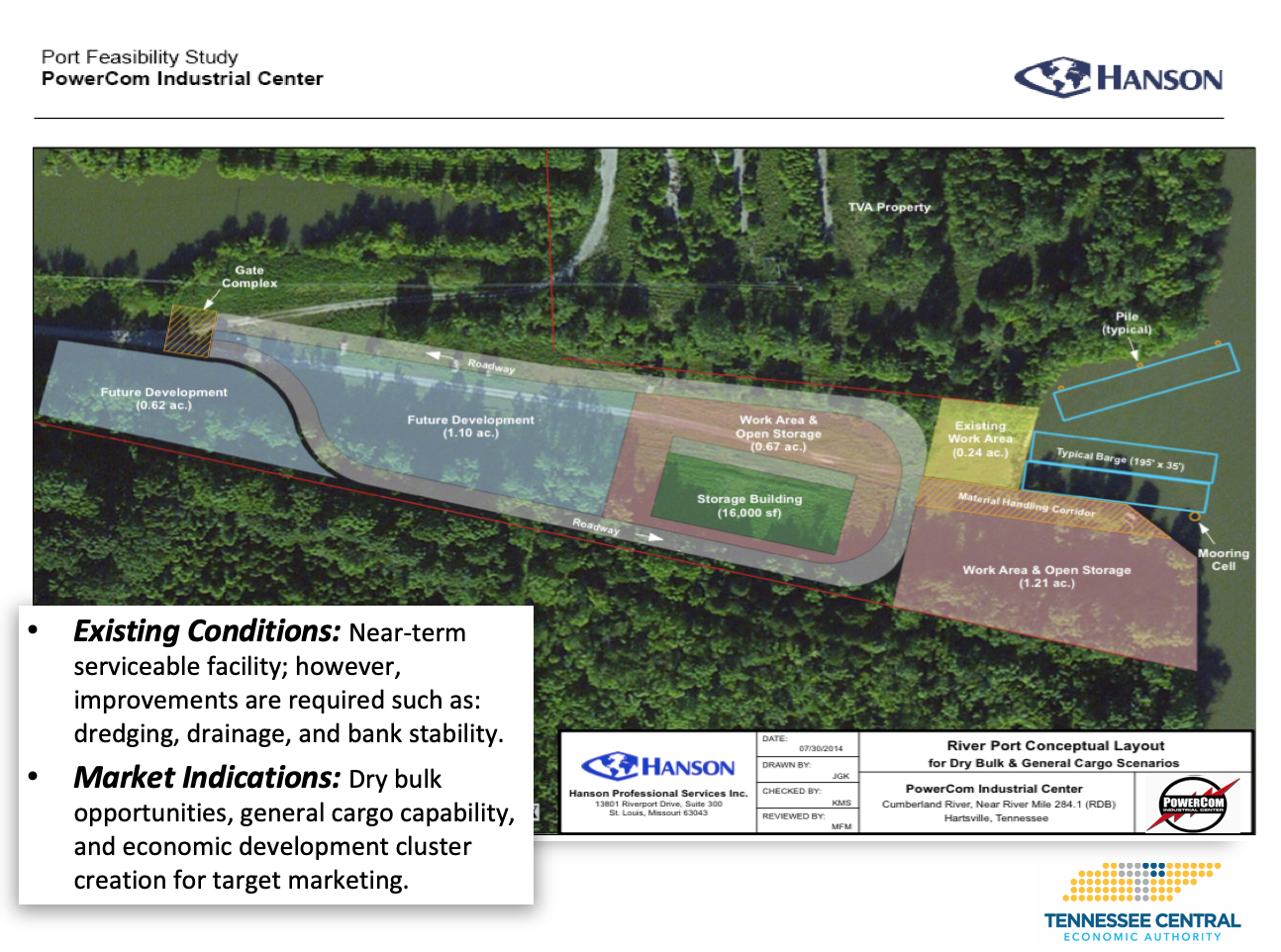 Airports
Unlimited connections, expanding cargo facilities.
Nashville International Airport: Served by 16 carriers providing direct service to 89 markets, BNA (so designated for its origins as Berry National Field) offers virtually unlimited global connections for passengers and cargo. Served by 11 all-cargo carriers, the Nashville Air Cargo complex, adjacent to the passenger facility and just 5 minutes from I-40, provides taxiway access to three parallel runways and a crosswind international runway, with a fifth runway planned and over 110 acres dedicated to the continued expansion of burgeoning cargo operations.

General aviation airports: Three general aviation airports, the Lebanon Municipal Airport the Sumner Regional Airport, and Lafayette Municipal Airport offer excellent facilities for convenient, comfortable corporate air travel.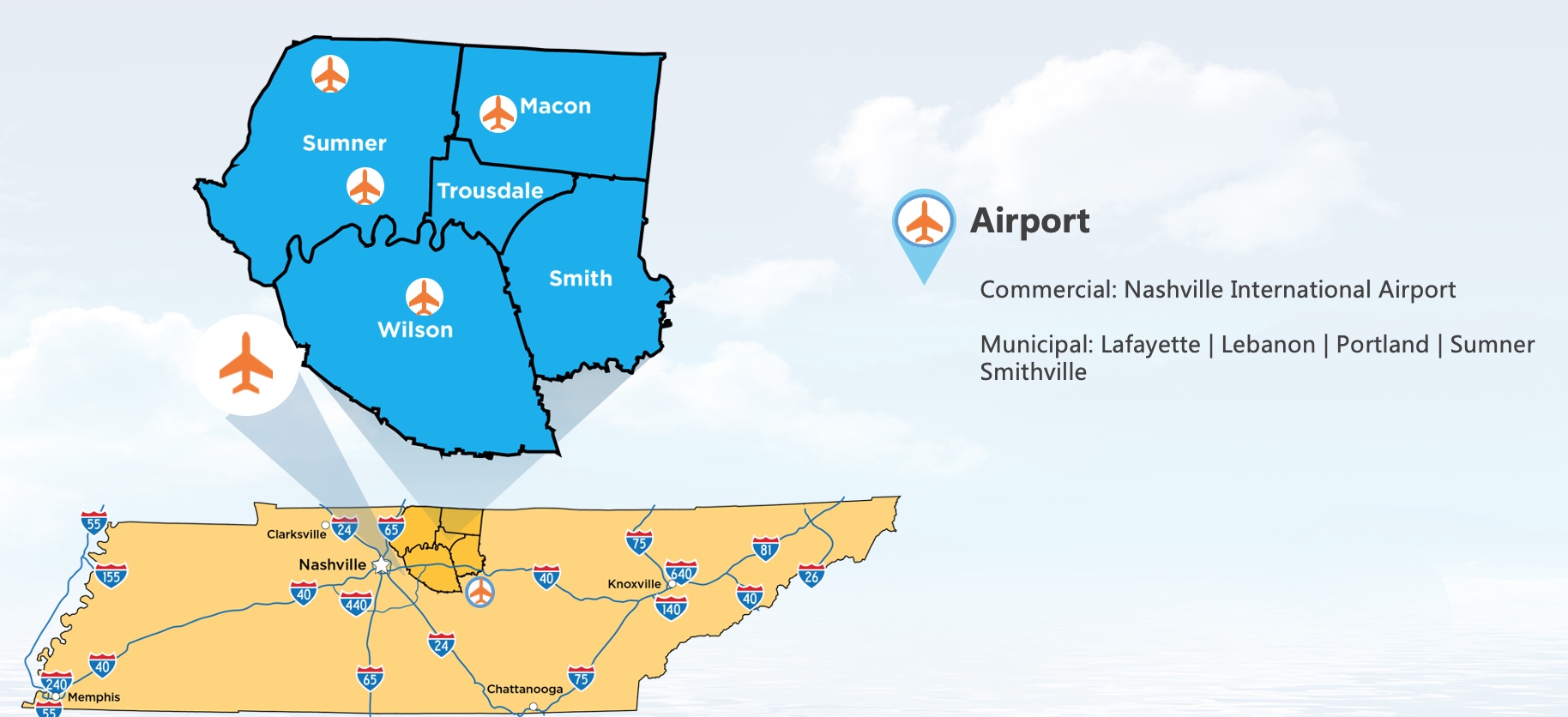 Manufacturers in the TCEA Region (50+ employees)
Hartsville/Trousdale Metro
Americolor/Catalog Kings
100-200 employees / Commerical Printing
ARC Automotive
40-65 employees / Automotive Airbag Inflation Technology
Mueller
100-200 employees / Commercial Refrigeration Components
Weldon/Christy's
50-100 employees / Adhesives
Macon County
Baby Nov
100-200 employees / Organic Baby Food
Clark Lumber Company
75-110 employees / Hardwood Lumber
Cobb
75-100 employees / Chicken Hatchery
Fleetwood Homes
100-200 employees / Modular Home Builder
Flex Technologies
75-100 employees / Thermoplastics and Thermoplastic processing
Measure Up
85-100 employees / Custom shirts and Lab coasts
TennPlasco
100-200 employees / Injection Molding
Smith County
Bonnell Aluminum
500-600 employees / Aluminum Extrusion
Dana
100-200 employees / Auto Parts (drivetrain, commercial EV axles)
Fabricated Tube Products
160-180 employees / Metal Tube Fabrication
Graphic Packaging International
100-200 employees / Paper Based Packaging Solutions
Nyrstar
300-500 employees / Zinc Mine
Shiroki
100-200 employees / Auto Parts (door regulators)
Sumner County
Gap, Inc.
1,571 employees / Clothing Distribution
ABC Technologies
1,000 employees / Auto Fuel Systems
UNIPRES
560 employees / Stamped Metal Car Parts
North American Stamping Group
457 employees / Manufacturing – automotive parts
ABB Installation Products
327 employees / Electrical Boxes
Kirby Building Systems
279 employees / Metal Buildings
Hoeganaes
232 employees / Iron Powder
RCTENN
230 employees / Plastic Injection Molding
MGM Industries
225 employees / Vinyl Windows & Doors
NIC Global
200 employees / Precision Sheet Metal
Wilson County
Under Armour
1,500 (Over 5 yrs.) employees / Distribution Center
Amazon
1,000+ employees / Distribution/Logistics Center
Cracker Barrel
820 employees / Corporate Headquarters
Performance Food Group
650 employees / Food Distribution
CEVA Logistics
625 employees / VMI & Logistics Provider for DELL & Nissan
TRW Automotive Comm'l Steering Systems
500 employees / Hydraulic Steering Gears
Genco ATC
500 employees / Electronics Refurbishment
Lochinvar, LLC
425 employees / Water heaters, boilers & pool heaters
Fed Ex
400 / Distribution Center
Genesco
400 employees / Footwear Distribution
Ozburn Hessey Logistics
380 employees / Distribution and Logistics
L&W Engineering Co.
367 / Metal Stamping
Environmental Science Corporation
350 / Laboratory Testing
Amersports
300 Sports Equipment Distribution
LoJac Enterprisers
275 Construction/Asphalt Plants
Destaco
245 / Manufacture Machine Parts
Permobil
215 / Electric Wheelchairs
---
Exceeding 500 employees:
Amazon Fulfillment Center: Located in Wilson County, the Amazon Fulfillment Center employs 700 members of TCEA's workforce. Amazon is not only utilizing our workforce, they are devoted to adding value to it by promoting career development and learning opportunities for their employees.
Cracker Barrel Old Country Store: Cracker Barrel's Headquarters and Distribution Center and its 690 employees are nestled in Lebanon, TN, where it was originally founded. Both the abundance of resources and beauty of the TCEA region have kept Cracker Barrel Old Country Store's Headquarters close to home.
Bonnell Aluminum has built a reputation as North America's leading manufacturer of custom aluminum extrusions. With AACOA and Futura investments broadening their market and product reach, they provide one of the most comprehensive range of capabilities in aluminum extruding, fabricating, and finishing in the industry. Bonnell is headquartered in Newnan, Georgia, with a 650 employee manufacturing operation located in Carthage, Tennessee (Smith County). They've been in Smith County since 1969 and have undergone multiple expansions.
Performance Food Group Distribution Center: Performance Food Group has found a convenient location for their distribution center in Wilson County. In the TCEA region, Performance Food Group's 646 employees are able to serve its 100,000 customers from the TCEA region, where they have the ability to reach 75% of U.S. markets within a day's drive. Logistically, our region is a no-brainer!
Gap, Inc. Distribution Center: For over 10 years, Gap, Inc. has utilized the convenience of Sumner County's location and workforce. With 613 employees, Gap's Distribution Center is bustling with activity as it serves its customers efficiently with the help of Sumner County's close proximity to two major interstates.
GENCO: Since 1898, GENCO has made a name for itself in providing quality logistical services to a wide variety of industries and businesses. GENCO's electronic refurbishment department and its 550 employees are housed in Lebanon, TN, where GENCO reaps the rewards of TCEA region's workforce training programs, which embrace cutting-edge technology.
World-class knowledge, hometown care
Just next door to the "Silicon Valley of Healthcare," where a globally renowned research hospital sets the pace for more than two dozen hospitals and medical centers, residents enjoy multiple healthcare assurances: cutting-edge quality, competitive choice and true hometown care.
A few of the leading names in the TCEA region include:
University Medical Center: The $26 million, four-story patient tower is an obvious statement of this facility's quality. However, a closer look at the range of care provided by UMC reveals another important reason why residents of Wilson County feel better—and feel better about their healthcare. Located in Lebanon, this 250-bed acute care facility offers a broad range of services, from orthopedics to obstetrics/gynecology, from neurology to cardiology to urology, from psychiatry to bariatric surgery and more. Founded by physicians in 1975, the hospital's "University" name was inspired by the close association with Cumberland University.
HighPoint Health System: As a division of the nationwide 61-member network of LifePoint Hospitals®, HighPoint operates four hospitals in our region, including:
Riverview Regional Medical Center: Riverview offers the best of two worlds, combining the financial resources and strength of a premier healthcare system with dedicated local care and attention. In fact, in 2014 the Smith County facility was accorded LifePoint's "High Five" award, accorded to only five of LifePoint's 61 hospitals. Riverview earned the accolade by fulfilling the system's five guiding principles: delivering high quality patient care, supporting physicians, creating an excellent workplace for employees, strengthening the hospital's role in the community and ensuring fiscal responsibility.
Sumner Regional Medical Center (SRMC): Voted in the Top 20 of the nation's "most beautiful hospitals," HighPoint's flagship facility in Gallatin combines good looks with great care. The views in this 155-bed hospital are splendid, both outside and in, with arched and floor-to-ceiling windows, accented marble floors, contemporary lighting and wood craftsmanship in 70 private patient Wellness Rooms. The grand lobby featuring a waterfall welcomes with an especially inviting feel. Even better, the welcome within this beautiful setting includes patient care delivered by leading healthcare professionals equipped with the latest tools and technology. The light filtering through those elegant windows is bright—and so is the future at SRMC.
Trousdale Medical Center: This 25-bed critical access facility in Hartsville is small in size but mighty in services, offering the latest technology and a range of diagnostic and treatment options that includes a 24-hour emergency department, computed tomography (CT scan) and state-of-the-art laboratory facilities.
Macon County General Hospital: This 25-bed critical access hospital in Lafayette is a uniquely powerful community healthcare resource, offering a deep bench of specialty clinics encompassing cardiology, orthopedics, surgery, podiatry, ob/gyn, gastroenterology and even hearing health, plus strategic diagnostic services like a mobile MRI.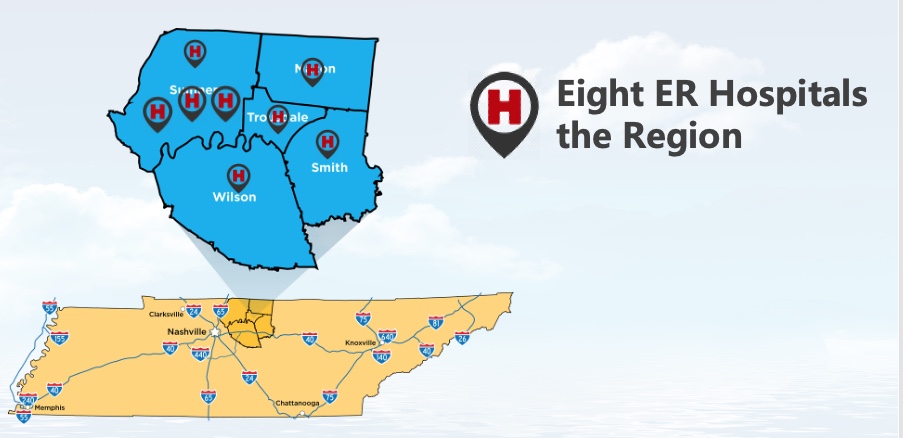 Quality of Place: Plenty of room, plentiful choices.

Booming business, flourishing families—this is a region that nurtures all kinds achievement and satisfaction by offering outstanding choice in virtually every area of life, work, and play.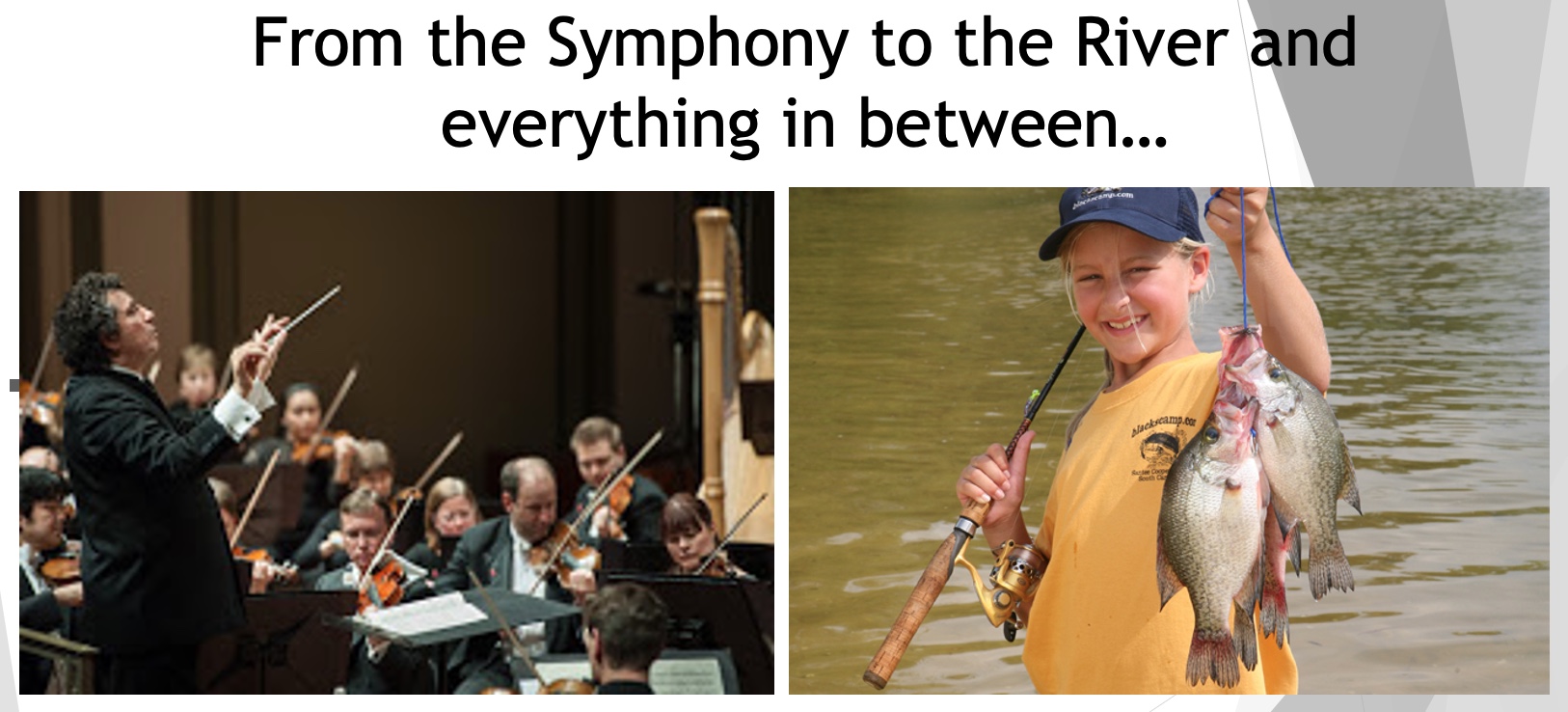 Perfect settings for every style: Looking for urban amenities, or would you rather enjoy small town charm? Got a need for racetrack speed? Or do you like to kick back and float your boat? Want to step out your door every morning to the sound of birds singing in the trees? Or would you rather step out for a stroll to the morning commuter train in a pedestrian-friendly city only minutes from the songbirds of Nashville? From quilt trails to soccer leagues, county fairs to five-course gourmet cuisine, from wineries to natural wonders, this region serves up vibrant and varied settings for a lifestyle that's uniquely satisfying, and uniquely you.
Schools that set a course for success: In the "Athens of the South," expect a higher degree of quality for great educational opportunities and the enrichment of lifelong learning, thanks to superb K-12 options and nearly a dozen top-flight colleges and institutions of higher learning, including nationally ranked centers of excellence.
A year-round recreational paradise: Four spectacular lakes and the Cumberland and Caney Fork Rivers unroll an inviting array of four-season fun: golfing, hunting, fishing, boating, kayaking, canoeing, hiking, camping. In our mild climate, it's fun under the sun all year round, with a wealth of delightful outdoor diversions.
World-class healthcare delivered with hometown caring: Five premier healthcare facilities assure local convenience and cutting edge quality, just next door to America's "Silicon Valley of Healthcare" where globally respected research is bringing healthcare advances to the market, and to the bedside, every day.
Just next to the bright lights of Nashville: Take in the arts and culture of America's Music City, or take a front-row seat for exciting athletic action with the Tennessee Titans, the NHL Predators, Nashville Soccer Club (USL), and AAA Nashville Sounds baseball.