Tennessee Tech celebrates more than 1,400 graduates

May 10 2023
https://www.ucbjournal.com/tennessee-tech-celebrates-more-than-1400-graduates/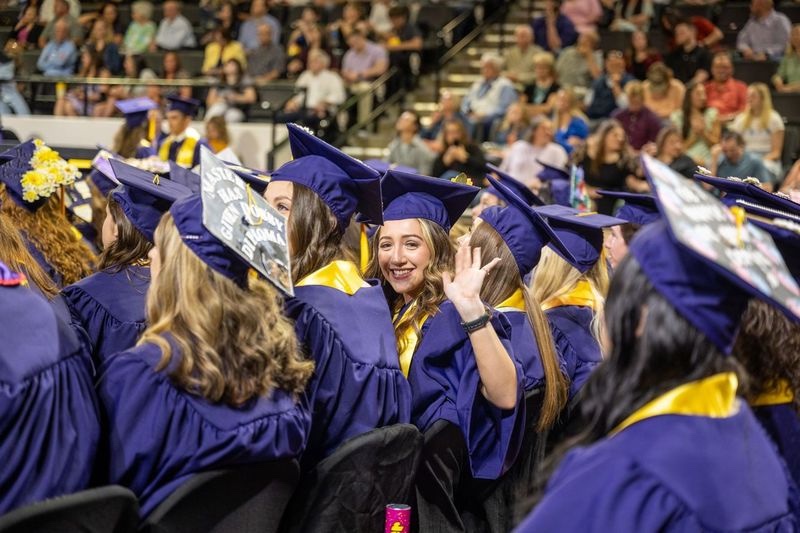 Undergraduate degree recipients represented 51 fields of study
Cookeville – More than 1,400 graduates representing 82 counties throughout Tennessee, 19 states and 18 other countries received degrees today at Tennessee Tech University's spring commencement ceremonies.
"In just a few minutes, you will have a degree from the No. 1 public university in the state and one of the top-ranked universities in the nation," said Tech President Phil Oldham in his remarks to graduates. "You are set to get a great return on investment because you have what the world wants and desperately needs: talent and tenacity."
During the morning and afternoon ceremonies, Tech graduates heard video remarks from graduating senior Savannah Griffin, student member of the Tennessee Tech board of trustees and outgoing executive secretary for the Student Government Association, as well as Tech Women's Head Basketball Coach Kim Rosamond, who led the Lady Golden Eagles to their 10th Ohio Valley Conference tournament championship earlier this year.
Graduates also heard from graduating senior Kester Nucum, the 2023 recipient of the prestigious Derryberry Award, the university's highest student honor.
Griffin encouraged fellow graduates to "carry with us the virtues of boldness, fearlessness, confidence and kindness," and "continue to be agents of positive change in our communities and our world."
Rosamond saluted graduates' positive contributions to the university. "In our program, we have one rule, and that is leave it better than you found it," she said. "To the class of 2023, I want to say a heartfelt thank you for doing just that on campus and in the community."
Nucum reflected on the "multitude of memories, lessons and opportunities" that graduates' time as Tech students afforded them and noted that "our time at Tennessee Tech has helped us discover who we are, what we love and what ignites our souls."
Commencement ceremonies included recognition of graduates serving in the U.S. Armed Forces, as well as three graduating seniors impacted by an off-campus apartment fire last week.
"They did not want to miss out on today's special milestone," explained President Oldham. "I'm told when allowed to go back in and grab a few items of meaning, they went back in for their caps and gowns. Thank you for being with us this morning.
Graduates' birth dates ranged from 1961 to 2003. Undergraduate degree recipients represented 51 fields of study, while graduate degree recipients represented 33 fields of study.
Video of Tech's morning commencement ceremony, which included the College of Business, College of Engineering, College of Fine Arts and College of Interdisciplinary Studies, can be viewed here.
Video of Tech's afternoon ceremony which included the College of Agriculture and Human Ecology, College of Arts and Sciences, College of Education and the Whitson-Hester School of Nursing, can be viewed here.
Students from the College of Graduate Studies received degrees at both the morning and afternoon ceremonies based on their field of study.
Tennessee Tech is ranked as the No. 1 public university in the state, according to Money Magazine, as well as a "Best National University" by U.S. News & World Report. The university offers more than 200 programs of study, and Tech grads leave with the least debt of all public universities in the state. In fact, based on total cost and alumni earnings, Tech provides students with the highest return on investment for any public university in Tennessee, according to PayScale. Find out more at tntech.edu.
Photo courtesy of Tennessee Tech.