Powercom Industrial Center Moving Closer to Interstate 40!

Jan 13 2022
By The Vidette; cgregory@hartsvillevidette.com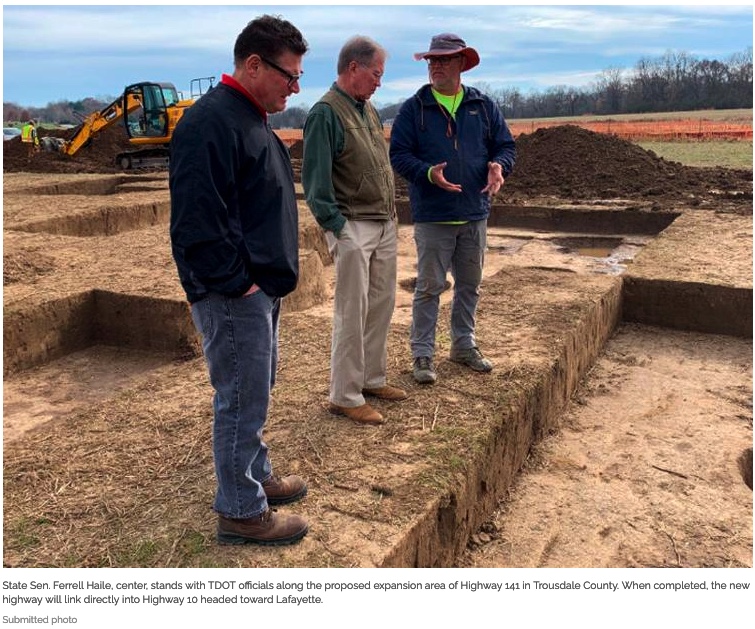 Expansion of Highway 141 enters planning stage
Senate Speaker Pro Tempore Ferrell Haile (R-Gallatin) said last week that construction plans development for the extension of State Route 141 to SR-25 / SR-10 southeast of Hartsville in Trousdale County are now underway.
The project previously met with a delay after an archaeological site was discovered while being surveyed by the Tennessee Department of Transportation (TDOT).
"Now that the site has been thoroughly investigated, construction efforts can resume for this project," Haile said in a press statement. "This priority road project will greatly improve mobility for the SR-141 corridor, as well make the road safer for the many commuters who travel through this area each day. I am very pleased that it is moving forward."
Haile said the project is approximately four miles in length, extending from north of State Route 10 to near the intersection of Cedar Bluff Road. The route will be a two-lane typical section, with two 12-foot travel lanes in each direction, 12-foot paved shoulders, and ditch drainage on either side. Right and left turn lanes and transitions are provided as needed at the interchange. The project also includes the construction of bridges over the Cumberland River and over SR-25 / SR-10.
"The goal is for TDOT to go to contract with a roadbuilding contractor for construction in 2023," Haile added. "We are working to get everything in place, including funding, for that to happen."
Haile said that archaeological findings uncovered at the site will aid in research regarding the area's heritage. Numerous sites occur on similar subtle rises within the Cumberland River terrace across Middle Tennessee.
I am very excited that we are ready to proceed with this needed road project and look forward to seeing construction begin," Haile concluded.
###